Check out our favourite Christmas Event ideas from our International Entertainment Agency with World class acts to enhance your events.
Santa's Grotto & Bjorn The Polar Bear
This is the ultimate festive experience for kids and adults alike, hosted from Santa's North Pole Grotto with his trusty furry companion Bjorn the Polar Bear.
Set in 'Santa's Grotto' which will either be a set build or via green screen from a studio. Santa will read a story time book to the children from his grotto – either a reading of The Polar Express with special appearances from Bjorn, or we can create a bespoke written story for the session which can involve lots of magical and personalised story arcs. For example we can include names of the guests that will be watching and read out some good things they've done this year as a personal touch from Santa himself.
Plus, the option to add a gift sent to guests beforehand which can be hidden in their house.
Christmas Song Writing Workshop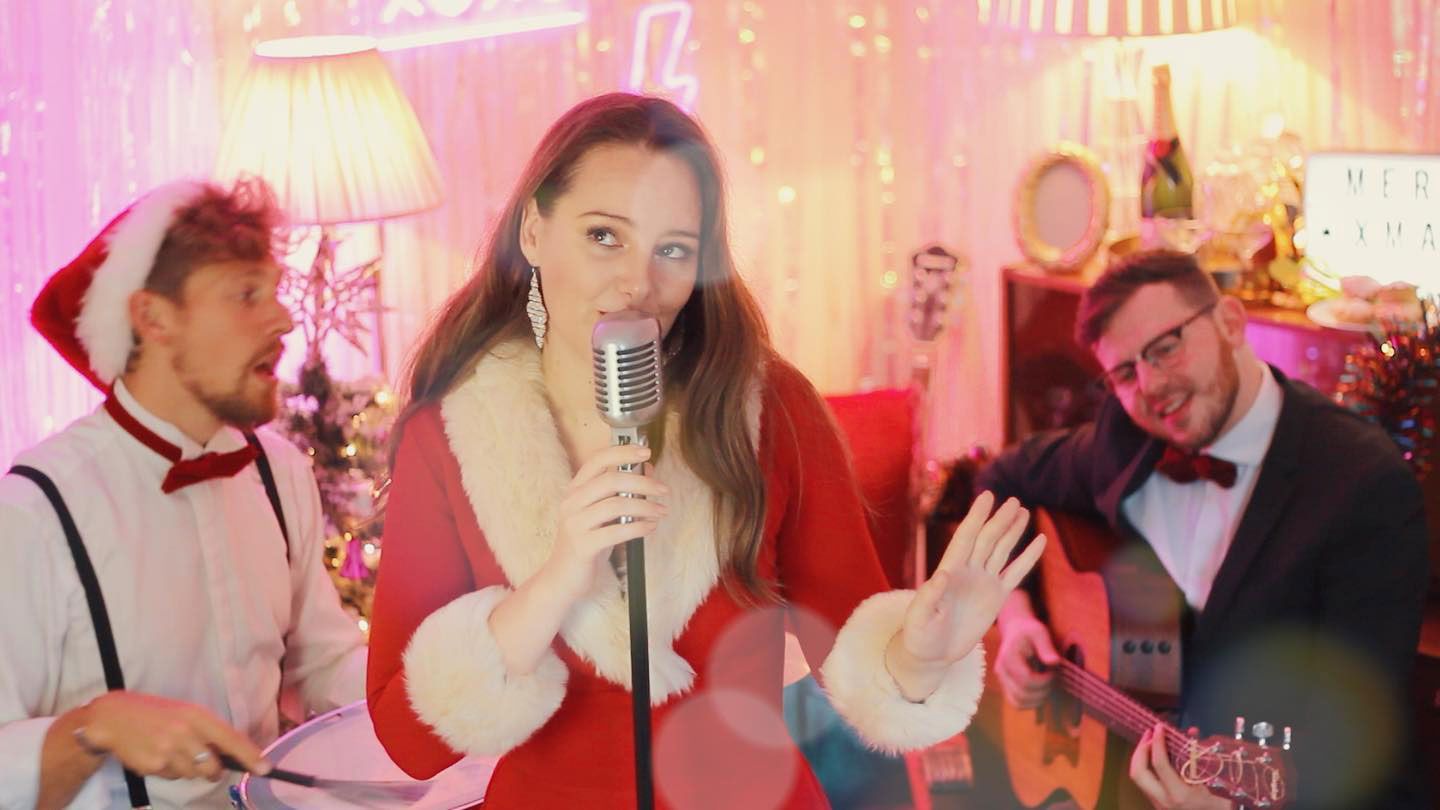 This high-end Christmas function band is letting you take the reins with this Christmas songwriting workshop. Perfect for team building events, this online event will cover song concepts, themes and influences, song structure and production. Discover your team's strengths and weaknesses whilst helping them to find new capabilities they never knew they had. With Q&A sessions, there is also the opportunity to create your own Christmas Grammies with a prize for the best team song. This is the ultimate fun, interactive event that encourages creative processes, perfect for the festive period
Festive Virtual Mind Reading Show
Award-winning comedy mentalist, Chris will bring festive, feel-good fun to your virtual Christmas party with a themed virtual mind reading show. As seen on Broadway, the West End and on TV in BBC Three's award-winning ​Killer Magic​ ​and CBBC's ​Chris Cox's Mind Boggling Magic​, Chris is a highly-entertaining mind-reading magician with specific routines tailored to suit and spice up live shows, virtual events & conferences and themed events.
This virtual show features – Christmas-inspired virtual backgrounds, custom themed tricks, Chris' contagious energy and festive cheer! With opportunities for customisation, Chris' virtual show is perfect for corporate clients hoping to celebrate the holidays with remote teams.
Bingo Beats & Bubbles
This immersive game of musical bingo not only gets people engaged but challenges them to think outside the box! Hosted by a fun and engaging host skilled at maximising audience interaction –
Choose the add-on Bubbles Hamper for a little extra luxury, open up those party props and get your game on! Not only will you have to "name that song" but you will need to listen out for subtle clues in the lyrics. We can also include trivia knowledge in the challenge, testing participants on how much they know about soundtracks, line-ups and music legends!
Online Gift Wrapping Guru
In a series of short, bite-sized sessions our luxury gift-wrapping expert will take you through a whole range of specialist techniques. From standard boxes without sellotape, through complex shapes, ribbon art, folding & Japanese Furoshiki techniques, these sessions will cover them all! Classes can be combined into one longer session for a full afternoon of creativity and fun, ideal for the festive period.
Our Wrapping Guru is a specialist and advisor for many brands including Dior, Jo Malone, Carolina Herrera, Aqua di Parma and Harrods.
Like the look of any of these event ideas and add ons? It's not too late to organise an Online Christmas Event and we're here to help! Please get in touch and we can discuss these or any number of Christmas Events ideas, personalised themes, hybrid events, multi-event platforms and VR/XR enhancements!