A pattern that we keep seeing here at Ziggy & Violet is how popular (good quality) virtual games and 'gaming' is – whether it be for team building, parties or just general get togethers; these immersive, interactive and engaging virtual games are a great options for virtual get-togethers.
Ziggy & Violet Spring Top 5 Virtual Games
Plymouth Point: Can You Find Ivy?
An immersive, theatrical, virtual thriller.
The game will take you from the comfy confines of the Plymouth Point Residents Watch into the heart of a deeply unsettling corporate conspiracy. In your teams, you will follow clues, crack codes and hack passwords in an attempt to find out why a missing resident has vanished. This experience is part escape room, part immersive theatre and all online. Plymouth Point relies on you to peel back the layers of the mystery to find Ivy before it's too late.
The Jewel Heist – Escape Room
A fun, interactive live event, hosted by a character performer where guests can expect to interrogate witnesses, solve puzzles, crack riddles and interact with the world-famous magician.
It's 1950's New England and its fast approaching midnight – the lady of the house discovers her priceless Chrome Opal is missing from her safe. Everyone is a suspect!! Guests are pre-allocated a non-gender specific character and sent a themed, digital invitation along with their character package including; the premise, their backstory, motive and the clues they hold secret. All material is emailable and downloadable. Working alongside each other and getting to know each other as they unfold the mystery behind the jewel heist. Customisable options are available, such as alternative locations, themes, personalised storylines or characters.
Sherlock The Grand Debut Murder Mystery
This event is hosted by professional actors and encourages communication, teamwork, problem-solving and critical thinking.

Participants take on the role of an 18-year-old Sherlock Holmes on his first case, the murder of Lord Harrington at Chapelgate Manor. It seems like an open and shut case, but it is? Your mission is to work your way through the manor, complete your investigation and identify the murderer, elementary? I think not.
Trip Down The Nile – Escape Room (Other Themes Avaliable Studio 54, Alice in Wonderland, 1920's Paris etc)
Take a trip down the Nile, with this interactive and theatrical Escape Room.
The steam engines gently whirr underneath your feet, as you and your shipmates cruise down the world's oldest river – aboard it's most fashionable ship. After the discovery of Tutankhamun's tomb made headlines across the globe, Egypt has become the destination du jour for art collectors, historians, and the adventurous elite. This particular sailing is full of interesting and exciting characters – and harmless, you thought – until someone shows up dead.
An investigation ensues and everyone is a suspect. Will you be discover who committed this crime, before the boat docks and you're all taken away?
Additionals avaliable such as caricature artist
Interrupt The Routine
Interrupt the routine and compete head to head with your team in this virtual quiz.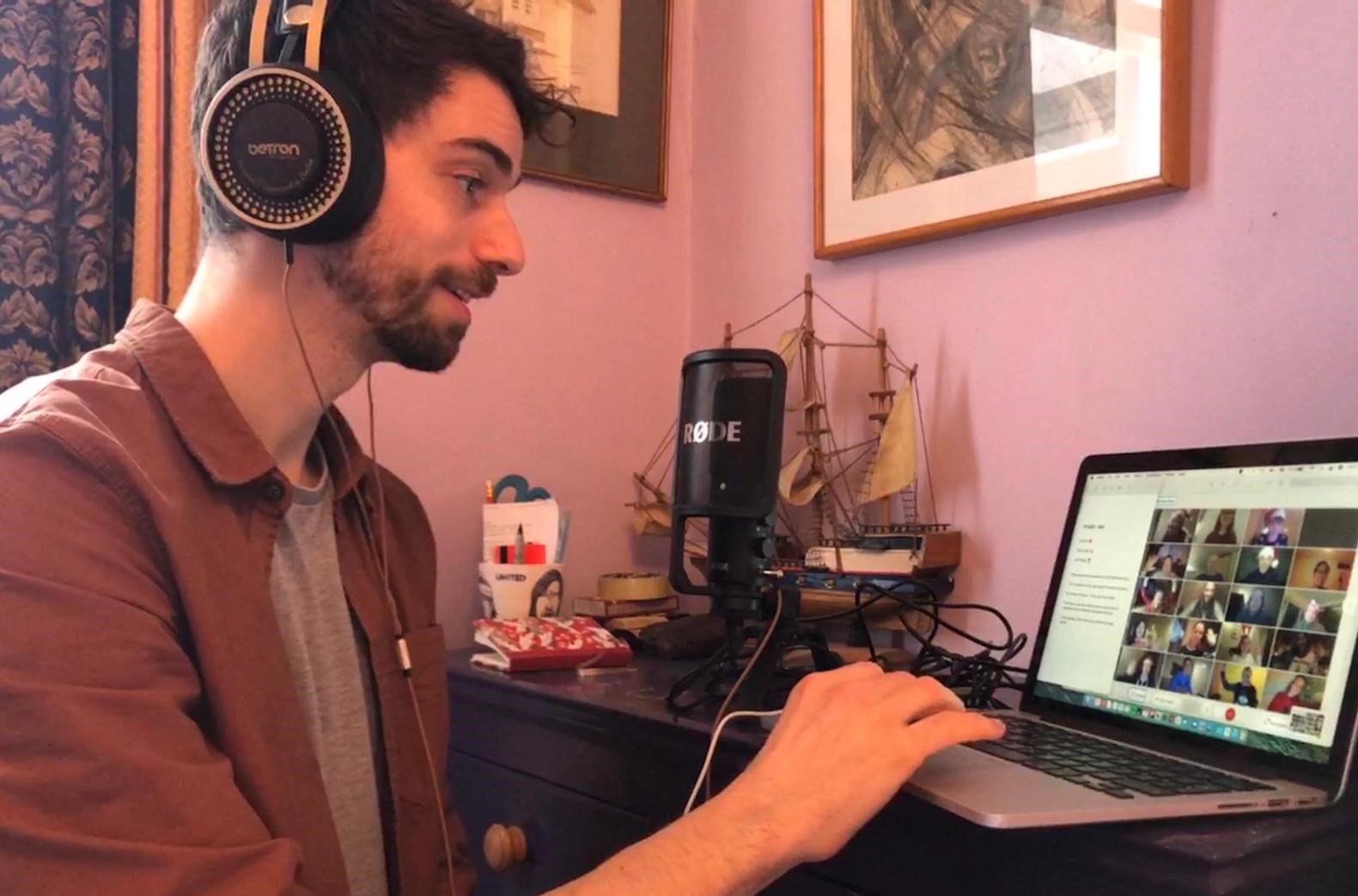 The quiz is made up of multiple choice & written-answer questions. All questions have a timed response – the quicker you answer, the more points you get. To aid with some healthy competition, there is a live scoreboard where all teams can see where they're positioned after every 4 questions. Players meet their quiz host for an introduction before going to a live, interactive quizzing software where the team leaders will input answers into. Each team will have their own separate Slack channel to discuss and agree on the answers for the team leader to then submit to the software. Each round is made up of 10 questions – which can either be general knowledge or tailored to a specific theme of your choice. In between each round there is a short break for guests to chat with each other, grab a beverage or just take a break before going into the next round.
Contact us and we would LOVE to organise a virtual event, activity or session for you and your group – no matter the size and occasion! We have infinite off the rack options or our virtual events team us ready to dream up a bespoke online event tailored to your needs.